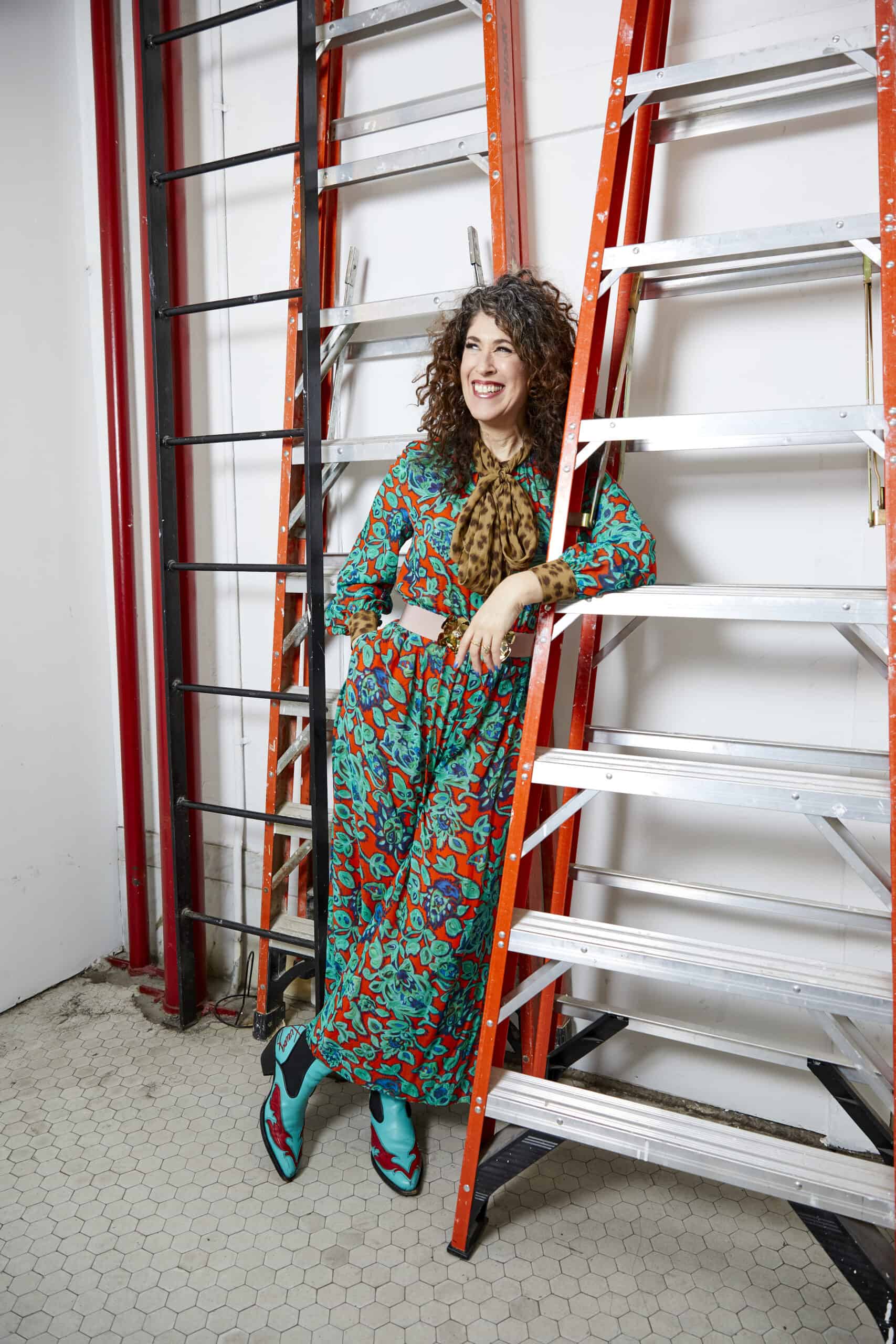 "Fresh and fabulous English coaching"
Buffi's passion, honesty and humor shine through in everything she does. She's a rulebreaker, a gamechanger, and a communication fairy who will make you laugh a lot, work hard, learn so much, and give you homework with a hug!
"She has taught the Dutch pop scene proper English", according to the Volkskrant. "Buffi, the grammar fairy, makes sure that your text is right", as said by the NRC Handelsblad. Buffi Duberman, (50) is the "Personal English Coach" for established artists such as Wouter Hamel, Racoon, Jacqueline Govaert, Tim Knol, Karsu, Anneke van Giersbergen, and Within Temptation. She also includes top film actors, politicians, and global CEOs in her client portfolio, as well as being a senior TEDx speaker coach. Buffi: "My mission is to make sure that no one ever says "I feel myself at home' again."
Buffi is a native New Yorker who moved to the Netherlands (for love, after waking up with a hot Dutch stranger in Barcelona!) in 1991. Those who meet her for the first time might be overwhelmed by her untiringly positive attitude and her unequalled energy. Soon one discovers, however, that this is all 100% genuine and straight from the heart. Buffi has spent the past 30+ years putting her heart and soul into improving and changing how people communicate. Not only with the world, but also with themselves. She is now the most established 'Personal English coach' in Europe, which is a title for something that no one had ever heard of – until she created this field in 2000, when she left a safe, well paid job to follow her entrepreneurial dream.
Buffi loves working with her private clients, but she is also dedicated to innovation in education. That's why you can find her spreading the gospel of English communication in her own unique way- whether it be in the boardroom, in the university classroom, on the film set, in the studio, or just on Instagram. She's written several books, designed numerous online courses, and (when she was 48 years young) taught 10,000 people English grammar at the Lowlands festival. Buffi is a true example of living your life with confidence, and spreading your light without shame. This is something all of her clients have embraced as well, when they enter the magical world of Buffiland.
But wait…there's more!
Buffi has appeared on the small screen as the coach and consultant for Idols, X-Factor, and The Voice, among others, and you might have seen her as a guest on DWDD, Omroep Max, Shownieuws, heard her on BNR, Radio 2, 3FM and more. She's also trained many DJs and artists in English Media Training, and is the secret weapon on both sides of the mic.
Buffi's affinity with music and her obsession with grammar (She actually calls herself a Graminal) led to her write her first book "Rock Your English!" which is all about learning English through song lyrics and pop quizzes. It's fun(ky) and thousands have been sold in the Netherlands, Belgium and Norway. Buffi: " I want to show people that language is everywhere and challenge them to learn English in new and exciting ways.  Her first online course, "Rock Your English @ Home!", launched in 2012, and is a lively supplement to the book, featuring personal interviews with 14 top Dutch artists talking to their English coach about grammar and lyrics.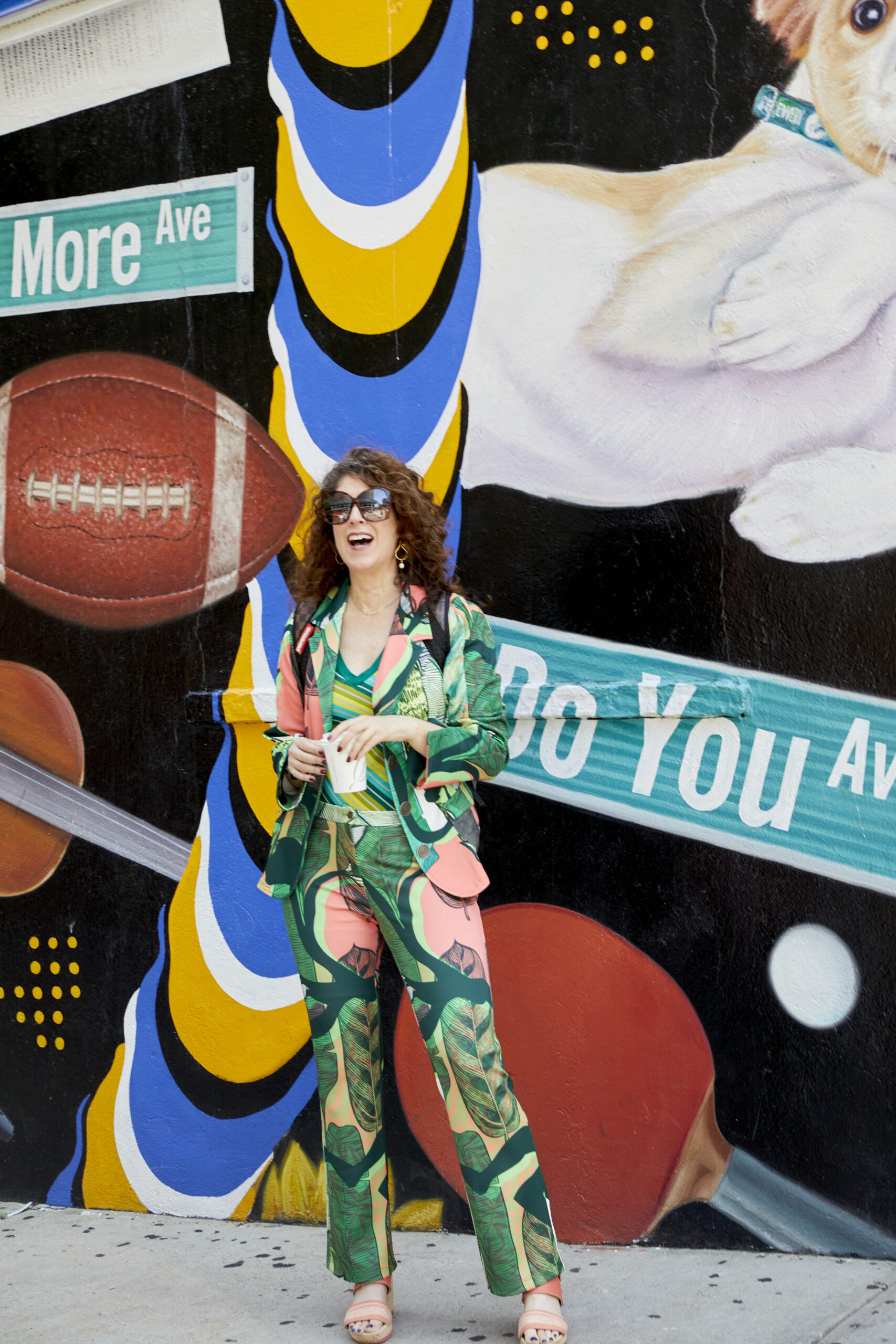 Next Level Learning
Buffi is busy and so are her clients. That's why her online Business English course, www.businessenglishcommunication.com is so popular among entrepreneurs and executives. In 8 modules you learn how to speak, write, network, present like a pro, and so much more! Every masterclass has its own worksheet, and yes, you have to do your homework.
Buffi decided to take things a step further in 2016. Her new book, "100 Ways To Save Your Ass In English" (which focuses on the most embarrassing mistakes in English with a particular focus on Business English),was 154% crowdfunded. It's a fresh approach to professionalizing one's English in a humorous way. One lesson a day keeps the shame away!
In the super summer of 2016, Buffi took to the Bravo Stage at the hugely popular Lowlands Festival, where she taught 10,000 people English. It was the experience of a lifetime, and absolute proof that education is rock&roll, and teachers are rock stars! She's honored to hold the world record in the World's Coolest English Lesson. (Ever.)
Buffi is proud to be a refugee ally and has been a volunteer teacher in Dutch and English for people who are starting a new life in the Netherlands. She is deeply committed to refugee education and to celebrate the launch of her book, she donated 155 books to refugees across the Netherlands.
One of her favorite phrases is 'Use it or lose it, honey!' and she's taken that to heart in her new e-book, WORK IT!, launched in 2017. It's an 80-page journey through quick lessons and exercises, filled with inspiring quotes, new vocabulary, and so much more.
Buffi did not sit still in 2018. As a matter of fact, she does not remember sitting at all. She helped Linda de Mol with dialect reduction for her new film role, coached Jandino on his English material for his American adventures, taught in Berlin, Brussels and Bali, created and launched her fabulous new card game 'Talk Nerdy To Me', which has made people around the world activate their English with a smile. Buffi was honored to co-host (with Cécile Narinx) Harper Bazaar's Woman of the Year award, and was delighted to hear she was nominated herself. She also continued her passion of giving out free hugs to strangers at train stations, and was the English coach for RTL4's new program 'The Talent Project'.
In 2019 brought new adventures, which were welcomed with open arms, as always. She became a columnist for BNR and did several podcasts for them, focusing on language, life, and learning. In this year Buffi created a new blended learning program, Great in 8, which combines the best of personal coaching and online learning. (It sold out and will be return in 2020.) Buffi worked in the studio with Jeangu MacCrooy and Og3ne, and was often seen on the TLC program 'Louisa and Rowan', helping Louisa work on her international dreams in English. YoungCapital and Macaw hired  her as their exclusive English coach, and Buffi helped the CEO, CIO, and Global Retail Manager of Rituals rock their presentations in front of 1600 people. She also released her new ebook '50 Lit AF Buzzwords To Keep Your English On Fleek' and founded her own educational foundation, the BDEAL Foundation (bdealfoundation.org) to help with children's English education in the north of Bali. She also continued her work as a senior TedXAmsterdam Women speaker coach. 
Buffi Duberman (born in 1968!)
Buffi didn't sit still in 2020. She spent February teaching on Bali, using new educational materials developed especially for the B.Deal Foundation by her new educational partners, Hogeschool Rotterdam. She ended her time on Bali with a week-long silent retreat which showed her the immense value of keeping her mouth shut. However, she opened it again upon her return to the Netherlands, where she used her intelligence during the intelligent lockdown, writing and recording Sunday's Cool. Her new, online course brings you Buffilove every Sunday for 12 weeks in the form of a video lesson and an interactive workbook. She also gave 31 free Live Lockdown Lessons on Instagram, so that people all over the world could still learn English in isolation. Her spontaneous poem, 'The Strangest Spring' was picked up by Tim Knol, who turned it into a beautiful ballad. She also coached Danny Vera through all his lyrical miracles for his new album. Buffi had the unique honor of being the English Coach to both the Netherlands AND Belgium for the Eurovision Song Contest, and found comfort in the fact that next year's event will be one for the record books! Buffi has now taken up semi-permanent residence in a Zoom room, and has finally, although reluctantly at first, mastered the art of elbow and foot taps (and even digital hugs!).
I'd love to work with you!
Fast forward to 2021…and beyond!
Buffi created mouth magic with the launch of her innovative new pronunciation program, Rock That Mouth. She spent 3 years working on this program, which consisted of 23 video lessons and 23 workbooks, covering everything from vowel extension, to muting, blending, intonation, emphasis, and her infamous Tongue Twisters. (She left her bloopers in to show the world that she is 100% human, and the struggle is often so real!)  People from 9 countries became members, and many of them became a VIP member, which entitled them to a live Personal Feedback Session. Based on their request for a follow up program, Buffi launched the RTM Maintenance Program to keep all of those mouths rocking!
Her Rock Your Business English programs have now helped hundreds of employees from over 15 different companies feel more professional and confident in English while learning (and laughing) in this effective and inspiring omnichannel program.
Sadly, Bali was Buffiless this year as she was unable to go and teach there on behalf of her BDEAL foundation. She continued her unwavering support, however, by upping her financial contribution, crowdfunding, and developing new materials.
Buffi continues to coach her private CEO and celebrity clients in London, New York, Brussels, Berlin, and the Netherlands, and she is working on the Next Big Thing as we speak.
Watch this space!
Actually, don't.
Don't watch this space.
Watch other things instead.
Go live your life. Go take a walk. Go have coffee with a friend.
Close your laptop, turn off your phone, and sit and watch a bird in a tree.
Yes, watch the bird. Not this space.
Why?
Because taking time to reflect, to talk to YOU, affects how you talk to the world. Your words shape your world. Use them well.
I'd love to work with you!